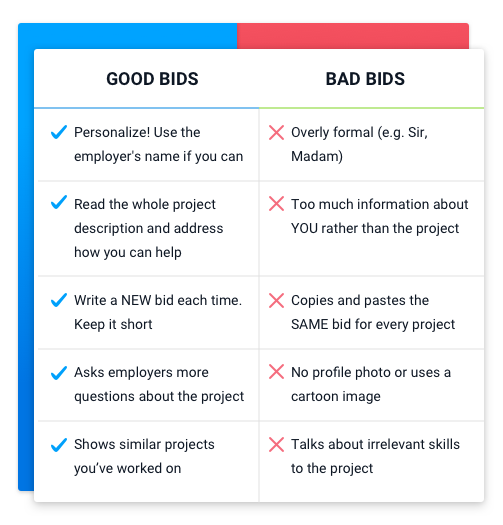 When you become a freelancer, you have to find a way to create an income every single day. Many freelancers do this by bidding on freelance job boards. The problem they come across is there are millions of people bidding on the same job as they are. So how do you make your bid stand out, how do you win the bids so you can earn money?
The first thing you need to do in order to win a bid on a freelance site is to understand your skills, what are you offering. If you are a writer, it is important that you focus only on writing jobs for the time being. You do not want to waste your bids on jobs that you are not qualified to do. If you decide you would like to get into another niche, study it, and learn everything you can about it, but always stick to what you know.
Second, you need to decide what your work is worth. I see thousands of posts for transcribers for example. These jobs offer one dollar to nine dollars per audio hour. Now that may seem okay for some, people may think hey, nine dollars and hour that's not bad for working at home. In reality, these jobs can take anywhere from four to six hours to do so you really are making pennies. So how much is your work worth? Once you determine a price, you look for jobs that are within that price range. For example, if you work as a copy typist, and you charge $.04 per word, only bid on jobs that will average out to $.04 per word. You must ensure you are making money.
The third thing you should do if you are trying to win bids is to make sure your profile is filled out. What is your education, your skills, your job history? Do you have a portfolio? Have you ever published anything? These are all things that should be filled out on your profile.
Next, you need to begin taking test. Each freelance job site has tests that can be taken in order to show employers that you are skilled for the jobs they need you for. Some of the sites provide these tests for free while others will charge a fee for them. It is very important that you spend some time and take these test. There are some jobs that you can't even bid on if you have not taken the relevant test. Make sure you score as high as you can because employers can see your scores.
Finally it is time to place a bid. How do you make your bid stand out? If everyone is bidding around the same price and same time period to deliver, you can stand out by offering better. Over to do it for a little less money than everyone else, do it in less time. The way I work, is I will bid on projects, but only accept one per day, this allows me to have a one day turnaround time, do quality work, and get a great rating from my clients. I can do this because I am not dependent on my freelancing income and am only working to build up my business for the future. If you are dependent on your income as a freelancer, this will be much harder for you to do.
Becoming a freelancer does not happen overnight, it takes time to win bids an you must be diligent. Don't give up, continue bidding, do amazing work when you do get a job and you will begin winning bids every day.